19th August 2023
Freestyle Libre 2 System 14 Day CGM | What You Need To Know
What is Freestyle Libre 2 CGM
The Freestyle Libre 2 Flash Glucose Monitoring System is a 14-day hassle-free continuous glucose monitoring (CGM) device that used to track blood sugar levels over time. This advanced continuous monitoring device can help you make better diabetes management decisions, such as when to take insulin or eat snacks. That leads to better diabetes management and improved quality of life. Say goodbye to guesswork and hello to informed decisions for your health.
In this post, we will cover everything that you need to know about Freestyle Libre 2 CGM, including, its features and benefits, how to use it effectively, buying online, and some must-know functionalities. Each section has been carefully crafted to give you a comprehensive overview so that you can navigate the complexities of glucose monitoring with full of confidence.
Warning: It is important to understand the indications and safety features of the Freestyle Libre 2 Sensor 14 Day. Accurate glucose monitoring is vital for managing diabetes, avoiding complications, and making informed choices. Knowing when to use the sensor correctly helps you get the most out of it. Being familiar with its safety features makes your experience better and lowers possible risks.
Benefits of Freestyle Libre 2 sensor
Freestyle Libre2 sensor monitors your glucose level painlessly within a second scan, no finger pricks needed. Gain insights into how your body reacts to treatment, food, and exercise. Identify patterns and set real-time alarms for low or high glucose levels. Collaborate with healthcare professionals and see the bigger picture of your glucose level, beyond single moments. The sensor updates readings every minute and stores 8 hours of glucose data at 15-minute intervals. It's water-resistant, allowing wear for up to 14 days, including activities like swimming, showering, and exercise. Here are some proven benefits of it:
Real-time glucose readings: Real-Time Updates on every minute on Your Smartphone


No blood sample needed.


Lowers your HbA1c.


No fingerstick calibration required.


Trend arrows: See the direction your glucose levels are going, so you can take action to prevent highs and lows.


Alerts: You can set up alerts to notify you when your glucose levels are too high or too low.


Water-resistant: The sensor is water-resistant up to 1 meter for 30 minutes, so you can wear it while swimming, showering, and even exercising too.
Long lasting: The sensor Can be worn for up to 14 days, so you don't have to change it as often as other CGM systems.
Most Affordable CGM: The freestyle libre 2 is the most affordable (CGM) system in the market. Buy Online From £51.99


Buying Online: Recommended to buy online from registered Pharmacies like Ashcroft Pharmacy UK.
Order Now

How Does Freestyle Libre 2 Measure Glucose
The Freestyle Libre2 CGM estimates your sugar levels and sends this info wirelessly to a program on your phone or insulin pump. This program figures out how much insulin your body needs. When your sugar levels get too high, the pump delivers the insulin to bring them back within your target range.


When you put the Freestyle Libre 2 sensor, a tiny filament goes under your skin to measure glucose levels. The sensor tracks glucose levels in the interstitial fluid (ISF), a fluid surrounding the cells beneath your skin. It focuses on ISF glucose rather than blood glucose.
Important:
Trend Clues: The trend arrow shows you where your glucose levels are heading.


Be Patient: Allow a little time for glucose to shift from blood to the ISF (interstitial fluid).


Time Difference: Sensor readings are typically around 2 minutes behind blood glucose readings.


Substitute with Confidence: For many decisions, Freestyle Libre 2 system sensor readings can replace routine finger-prick tests.
Stay empowered with these insights for smoother glucose monitoring!
INDICATIONS AND IMPORTANT SAFETY INFORMATION.
Caution Before Using Freestyle Libre 2 System
Product Preview: Check out all the product info first, and safety tidbits of the package.


Know The Functional System properly: Before using, go through the product instructions and Interactive Tutorial.
Stay Germ-Free: Avoid blood-borne germs. Wear gloves and protective gear when using the system. Wash your hands before and after.
Guard Your Gear: Treat your devices and sensor kits like VIPs. Keep them safe and always in your control. And remember, they're not fans of heat, moisture, or sunlight.
Healthcare Chat: Have a conversation with your healthcare professional about effectively using sensor glucose data for managing diabetes.
Stay Safe: Using the System wrongly might lead to missing serious low or high blood sugar circumstances. It's about safety. If System readings don't match how you feel, use a blood glucose meter. Get medical help when needed.
Should know before applying the libre 2 sensor
Preparing Upper Arm: Clean the back of your upper arm with soap and alcohol. This helps the Sensor stick securely during wear.
Where should apply: The Freestyle Libre 2 sensor goes on the back of your upper arm. It's not meant for other body parts. This spot was chosen because studies showed it works best there.
Why the upper arm: It is flat, so the sensor stays put. It has good blood flow, which helps with readings. And the skin is thin, so inserting the sensor is easier.
Break Alert: If the Sensor breaks inside you, contact your healthcare professional immediately. Your health is the priority.
One-Time Use: Don't reuse Sensors or Applicators. They're meant for single use only.
Exercise Care: Intense exercise might loosen the Sensor. If it's loose, replace it.
Skin Sensitivity: If irritation occurs, remove the Sensor and consult your doctor.
Customer Service: If you need help, call (0800-170-1177). from Monday to Friday between 8:00 AM and 8:00 PM, Saturday 9:00 AM to 5:00 PM (excluding Bank Holidays).
Sensor Safety Check: The System monitors the Sensor. If it's not working, it might turn off. If this happens early, reach out to Customer Service.
Backup Plan: If the Sensor stops working and you don't have a spare, use another method to check glucose and treatment decisions.
Scan for Info: Scan the Sensor for your glucose level. The Reader and App won't show it otherwise.
Wear Duration: Keep the next Sensor ready before the current one's time is up for continuous glucose readings.
Warnings:
Avoid areas with hair, moles, or scars.
Put the sensor on your skin, and press for 30 seconds.
If you're unsure, ask your doctor or diabetes educator.
How to Use Freestyle Libre 2 Sensor
4 Easy steps to apply the sensor
Step 1: Choose a spot on the back of your upper arm. Make sure it does not have scars, moles, or lumps. Wash the area with plain soap (without fragrance or moisturizers) and water, and then dry it.
Step 2: Clean the skin with an alcohol wipe to disinfect it. Let the area air-dry before going ahead.
Step 3: Remove the lid of the sensor pack by peeling it off. Unscrew the cap from the sensor applicator. Match the dark marks on the applicator and pack. Press the applicator down on a flat surface until it stops, and then lift it to take it off the pack.
Step 4: Put the sensor in place by putting the applicator over the cleaned spot and pressing down firmly. Afterward, gently remove the applicator from your arm and make sure the sensor is secure.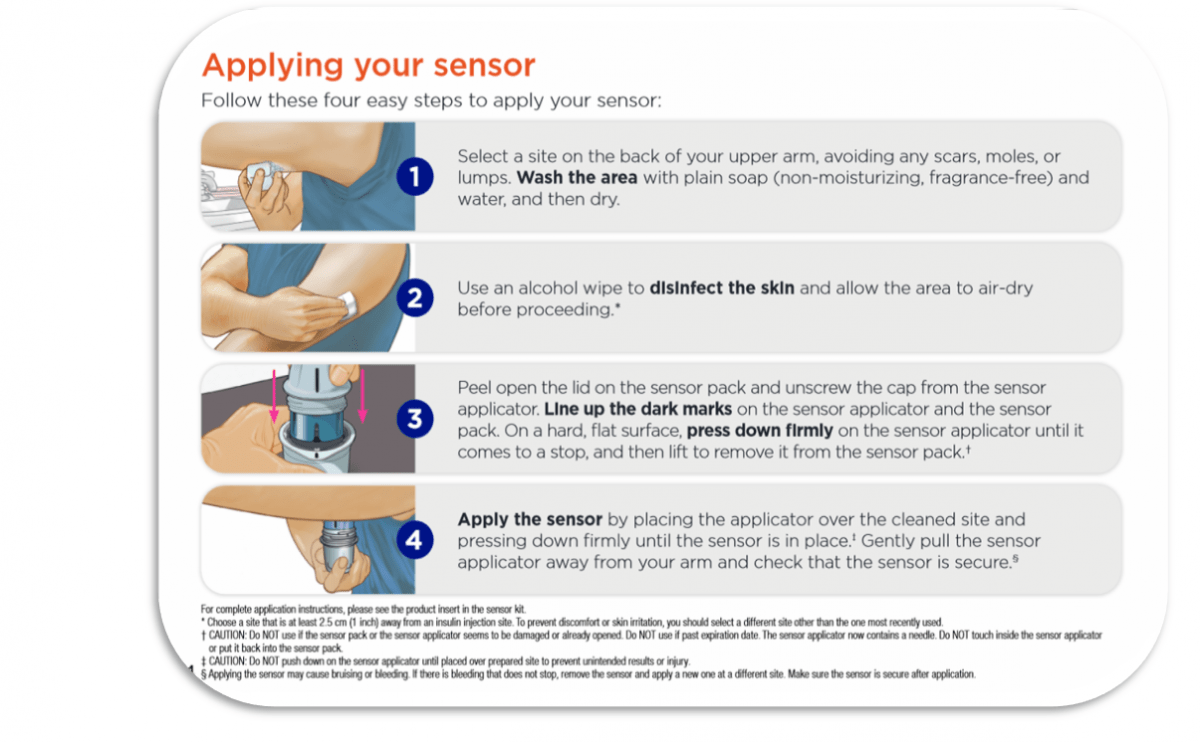 Tips to Stick to Keep Your Sensor Secured|Freestyle libre 2

While traveling: It is safe to use the sensor on an aircraft. However, avoid subjecting the sensor to airport full-body scanners. Ask for an alternative screening method to prevent removing your sensor.


Watch out for catching your sensor on things like doorways, car doors, seat belts, and furniture edges.


Watch out for your sensor when changing clothes.


While playing games or exercising: position the sensor on your upper arm's back to prevent displacement, if needed use suggested adhesives.


After bathing or swimming: take care while drying to avoid accidentally moving your sensor.
Wear loose and lightweight clothing to keep the sensor in place.


Avoid playing with: pulling, or touching the sensor while it's on your body.
How to Active Libre 2 Sensor
Follow the Image Instruction Below to Active New Sensor & Scanning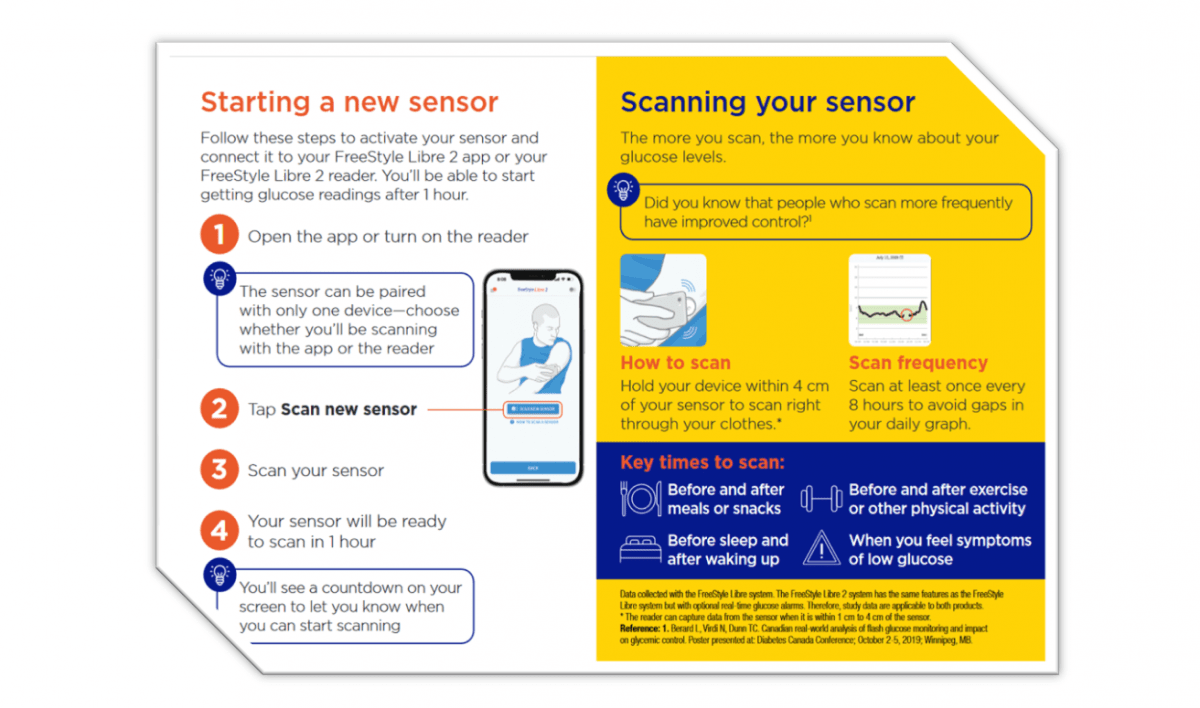 How to interpret trend arrows of The Freestyle Libre 2 system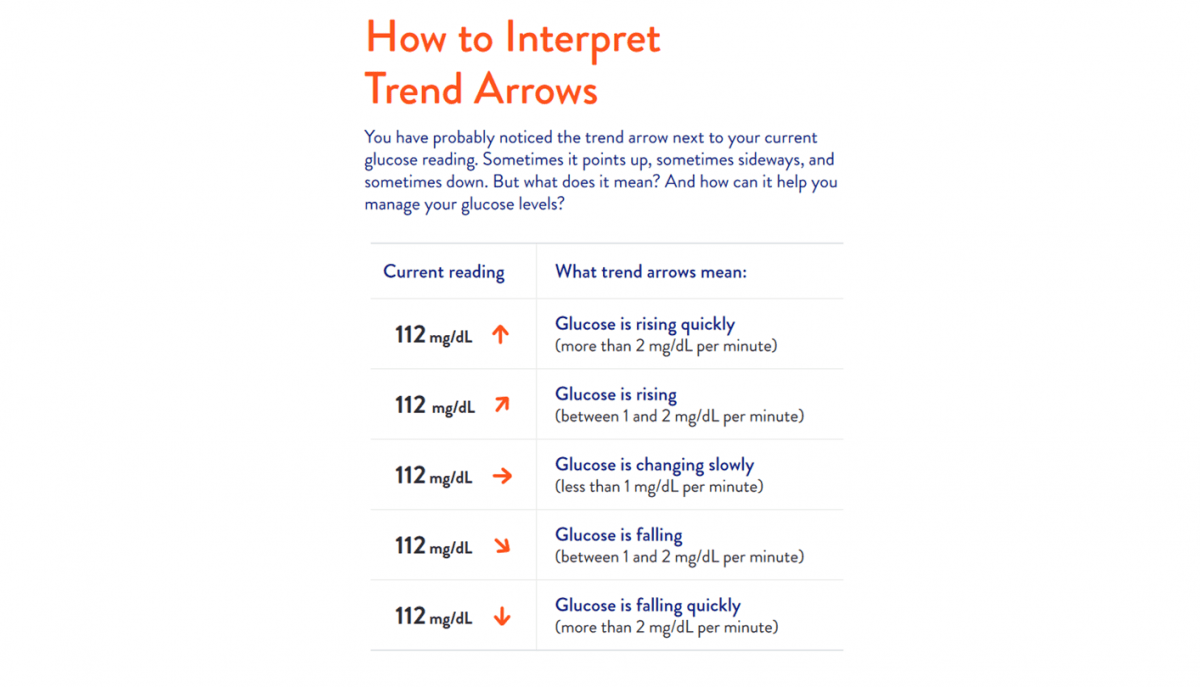 Pay Attention to Symbol: When you see this>

symbol in the first 12 hours of using the Sensor, if your readings don't match how you feel, or if there's no number, rely on your blood glucose meter for treatment decisions. For better understand indication signs on the scanner, read the image carefully.
Warning: It's important to understand properly the reader's indications or trends:
Don't brush off symptoms that don't match your glucose readings. If things don't add up, talk to your healthcare pro. Here's what you need to keep in mind to use the System safely. Only one person should use per 1 Freestyle Libre 2 System to avoid confusion with glucose data.
How to share your glucose reading with your doctor or others.

The Freestyle LibreLink or LibreView App- enables users to share their glucose reading results with healthcare professionals, caregivers, or loved ones.
LibreLinkUp- For Caregivers or loved ones.
LibreView – For Healthcare professionals
To share your glucose reading with your doctor or others, follow the image instruction below
How to Remove & Replace Libre 2 Sensor (Easy Steps to Follow)

Step1 : To take off the old sensor just pull up the adhesive's edge and slowly peel it away in one motion.
Step2 : To put on the new one find a new site and clean up with an alcohol wipe
Step3: Prepare the sensor pack and sensor applicator as instructed in applying the sensor.
Step4: Apply the sensor and make sure it is secure after application.
Step5: Just like before tap the new sensor on the reader hold the reader within 4cm to scan it, the sensor needs an hour of startup time.
Watch This Video to Remove or Replacing Freestyle libre 2 Sensor
That's how regularly you use the freestyle libre 2 flash glucose monitoring Sensor!
Freestyle Libre 2 App Compatible devices
Compatibility Check:
The Freestyle Libre 2 app is only compatible with certain mobile and operating systems. In this section, we will talk about compatible mobile devices, downloading app, setting apps & software, understanding readers, sharing glucose reading, and changing/disabling alarms:
Note: To see a complete list of compatible devices, please visit the Freestyle Libre 2 website. Check the official website or your app store for the latest compatibility information.
Find your phone model in the list.
If it is compatible, you will see a message confirming it.

Freestyle Libre 2 app-compatible phones:
The Freestyle Libre 2 app works on various Smartphones, including iPhone' and Android devices
here are some phones that are compatible with the Freestyle Libre2 app-
• Android phones with NFC and running OS 5.0 or higher.
• iPhone 7 or newer models.
Specific Phones: That works fine with Freestyle Libre 2.
Brand
Models
Google
Pixel 3 XL, Pixel 4 XL
Pixel, Pixel 2, Pixel 2 XL, Pixel 3, Pixel 4
iPhone
iPhone 13, iPhone 7, and newer models
Samsung
Samsung S21 Ultra, Galaxy A51, J5 Pro
S7 Edge, S8, S8+, S9, S10, A32 5G, A52 5G
Sony
Xperia 1, Xperia 5, Xperia 8, Xperia 10 II
(Note: Hypoglycemia alarms may have issues)
LG
Nexus 5X
Available Apps & Software's for Freestyle libre 2 (CGM)
| | | |
| --- | --- | --- |
| Apps and Software | Description | OS |
| FreeStyle Libre 2 Reader | Scan sensor, check glucose levels | Android, iOS |
| LibreLinkUp | Scan sensor, view glucose readings | iOS, Android |
| FreeStyle LibreLink 2 app | Upgraded version with alarms and trend arrows | iOS, Android |
| LibreView software | Glance at glucose readings on computer | Windows, macOS |
Download and Installation Freestyle Libre 2 APPSDownload For IOS-
Search for Freestyle Libre 2 and select the app
Open the App Store on your phone
Tap And Get
Installation
Install The APP By entering Your Apple ID
Once downloaded open the app and follow the instruction to get set up.


IOS Settings for Freestyle Libre 2 App
App Access Granted: Allow the App to access Bluetooth in your phone settings.
Bluetooth ON: Keep Bluetooth turned on in your phone settings.
Stay Alert: Under Notifications in the App settings, make sure to keep Allow Critical Alerts turned ON
Download For Android-
Go to the Google Play Store.
Search and Select the "FreeStyle Libre 2" app.
Tap install it.
Once installation completed, follow the app instructions to to get setup.


Freestyle Libre 2 App Settings for android
| | |
| --- | --- |
| Instruction | Description |
| Bluetooth | Keep Bluetooth "ON" in phone settings. |
| App Settings | Maintain Do Not Disturb Access permission. |
| Alarm Access | Set up "Alarms available". |
| App Guidance | Follow App instructions for Critical Alerts, Do Not Disturb Permission, and Bluetooth. |
| Unrestricted Access | Add Freestyle Libre 2 app to the unrestricted apps list for Android. |
| Headphone Awareness | Unplug when not in use or keep in your ears to hear alarms. |
| Peripheral Devices | Alarms may come through one device, not all, with wireless headphones or smartwatches. |
| Charge and Power | Keep your phone charged and turned on for alarms. |
| Keep OS Updated | Turn off automatic OS updates. Check App settings for updates. |
| Feature Impact | Avoid Digital Wellbeing app on Android. |
Tips:
Keep your phone updated.
Ensure network connection (Wi-Fi or cellular).
Keep the sensor nearby for scanning.
Contact Abbott support for issues.
Troubleshooting:
If the sensor is not working properly, try restarting the app.
If you are still having problems, contact Abbott customer support.
Know About freestyle libre 2 Reader's Built-in Meter:
• The FreeStyle Libre 2 Reader has a meter for glucose tests.
• Only use it with FreeStyle Precision Neo test strips and Medicines Control Solution
• Using other strips will cause errors or prevent the meter from working.
• Don't use it for dehydrated, hypertensive, shocked, or hyperglycemic-hyperosmolar individuals.
• It cannot test for ketones
• Not for neonates, critically ill, diabetes diagnosis, or screening.
Charging tips for the freestyle libre 2 glucose Reader
Choose a spot where the power adapter can be easily unplugged. Do not block charger access to avoid electric shock risk.


While charging or in regular use, Reader and power adapter can reach up to 120 °F and 117 °F respectively. Avoid holding them for over five minutes.


Be cautious if you have circulation or sensation disorders.


Freestyle Libre 2 Reader Alarms indications

Stay within Range: To get alarms, your Reader needs to be on and within 20 feet of you all the time. It works within this range. If you are out of range, you will not get glucose alarms.


Stay Charged and Alert: Keep your Reader charged and sound/vibration turned on to make sure you do not miss alarms.


Check glucose levels with Scanner: Remember, the alarms you receive do not tell your glucose level. You need to scan your Sensor to know that.


How To Change Or Turn Off the FreeStyle Libre 2 Reader's Alarm – follow the image instruction below-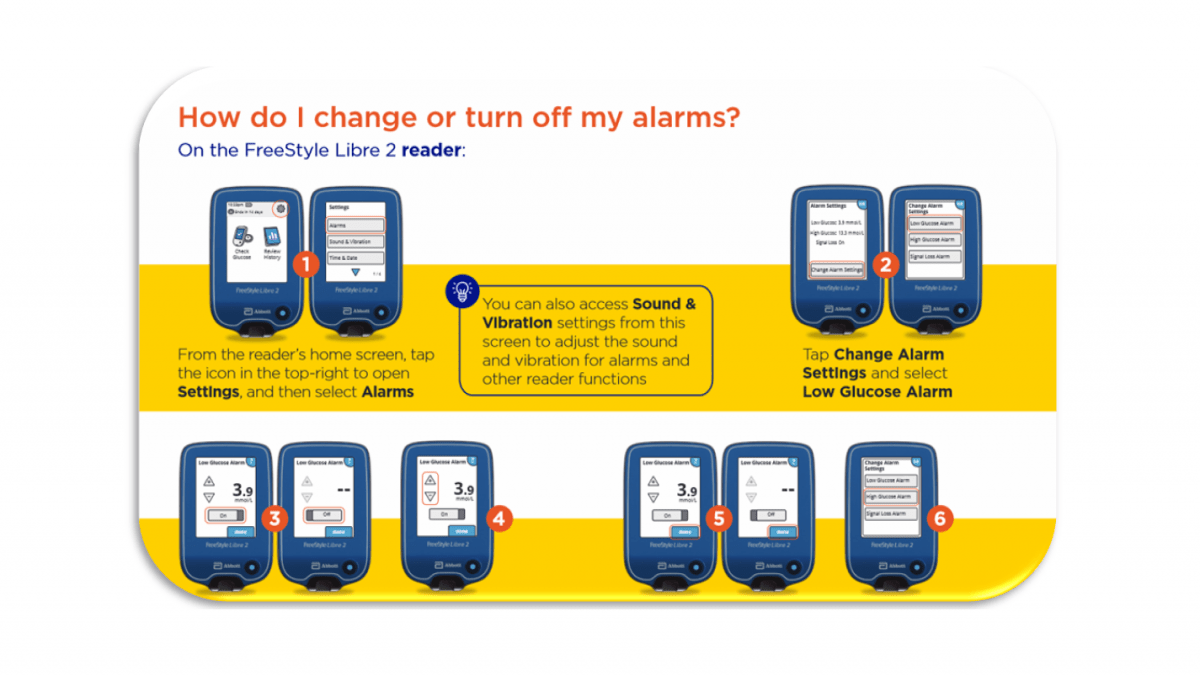 Important about freestyle libre 2 app alarms:
Stay Nearby: To get app alarms, your phone should be within 20 feet from you always. It works within this range. If you're too far, you won't get alarms. Also, make sure you turned on the optional alarms if you want them.
Keep App Open: Don't forcibly to close the app. It needs to be running in the background to get alarms. If you close it, no alarms for you.
Re-Open for Safety: To be sure you get alarms, open the app again. Also, if you restart your phone, open the app to check if it's working fine.
App Permissions: The app needs some permission for alarms. When asked, say yes.
Phone Settings Matter: Make sure your phone settings are right and permissions are given. If not, the app won't work well and you won't get alarms or glucose info.
How to change or disable freestyle libre 2 App alarms, follow these steps:
Step1- Open the device settings in the Freestyle LibreLink app.
Step2- Look for the "Alarms" section or a similar option.
Step3- From there, you can adjust alarm thresholds, change tones, or turn off alarms entirely.
Safety Note: The System has small parts. Keep them away from little mouths – they're a choking hazard.
App Alert: while using the Freestyle Libre 2 app. Remember, it does not replace a blood glucose monitor. Keep one handy.


Always refer to the app's user guide or help section for detailed instructions tailored to your specific device and app version.


How To store Freestyle Libre 2 Sensor Kit:
Keep it between 36°F and 82°F. Extreme temperatures might make glucose readings wrong.
If it might get hotter than 82°F (like in a hot, un-air-conditioned home), refrigerate it. No freezing.
Store it in a cool, dry spot. Don't leave it in a hot car.
Humidity should be 10-90% without condensation.
Keep it in its original packaging.


Only open it when you're ready to use it.
If you won't use it for a while, refrigerate it.
Don't use it after the expiration date.
By doing these things, your Sensor Kit will give you accurate glucose readings result for a long time.
FAQS
Who & where should not use Freestyle Libre 2
Pregnant Women and Dialysis: Skip using it if you're pregnant or on dialysis. The sensor's not tested on them. And if you've got stuff like pacemakers, don't use this sensor.
Critically Ill Patients: For critically ill patients, it's not recommended..

Automated Insulin Dosing: Don't use it with automated insulin systems like closed loops or insulin suspend. It might mess up the dosing.

Remove the Sensor before X-rays: They could damage it and affect glucose tracking.

Scans and Zaps: Before MRI, CT, or zappy diathermy, takes off the sensor. Strong fields can damage it, giving wrong glucose readings.
When is the appropriate time to take off the Sensor?
You can use a Sensor for up to 14 Days and should not be removed for 14 days, then it automatically Stops. At this point, the reader will tell you it is time to replace your sensor.
If Sensor Glucose Differs from Blood Glucose
Sensor readings might not always match finger stick tests due to body fluid differences. Changes like eating, insulin dosing, or exercise can cause variations. Don't worry – this is normal. To be sure, use a finger stick test. If the difference is big and you're unsure, talk to your healthcare provider for advice. Over time, tracking trends helps you understand better.
Is Freestyle Libre 2 100% Accurate
Accuracy of freestyle libre 2 sensor overall excellent (9.2 % for adults and 9.7 % for children) please remember that, no glucose monitoring system, including the Freestyle Libre2 sensor is not completely perfect. There might be small manufacturing imperfections, temperature conditions, skin differences, and sensor placement that can cause minor variations in readings. While it gives reliable information, understand that achieving 100% accuracy is challenging. Use the readings as a helpful tool, and consult a healthcare professional for precise diabetes management decisions.
What age is FreeStyle Libre 2 Sensor for
The FreeStyle Libre2 Sensor 14 Day is intended for individuals with diabetes aged 4 years and older. It is designed to replace traditional blood glucose monitoring methods for diabetes management.
Can Type 2 diabetics use Freestyle Libre2
Specifically, the sensor is indicated for measuring interstitial fluid glucose levels in people with diabetes, including both Type 1 and Type 2 diabetes. It is meant to be used by individuals at home as well as in healthcare facilities, providing insights into glucose trends and patterns over time.
When are the Best Times for Scanning
Before and after meals or snacks.
Before sleep and right after waking up.
Before and after exercising or any physical activity.
When you notice symptoms of low glucose.
If you're experiencing dehydration:
Severe dehydration and significant water loss might lead to incorrect Sensor glucose readings. If you suspect dehydration, seek advice from your healthcare professional right away.
Takeaway:
The Freestyle Libre 2 is a blood glucose monitor that doesn't need blood samples or finger pricks. It uses a sensor on your arm for up to 14 days. You can check your levels anytime, by waving the monitor in front of the sensor.
It's simpler and cheaper than other glucose monitors, but might not suit everyone. It can have inaccurate readings and won't warn you about dangerous glucose levels. Discuss with your doctor to decide if the Freestyle Libre 2 or another option is best for you.To learn more and make the most of the Freestyle Libre 2 system, explore the learning modules in the Freestyle libre 2 Academy UK.

Interfering Substances: Taking vitamin C (ascorbic acid) supplements while wearing the Sensor might give false high glucose readings. More than 500 mg/day could impact Sensor readings, risking missed severe low glucose events. Ascorbic acid is in supplements like multivitamins. Some, like Airborne® and Emergen-C®, have 1000 mg and should not be taken with the Sensor. Consult your healthcare professional to know how long ascorbic acid affects your body.

Source- FreeStyle Libre 2 Official Site UK